All Seasons Roofing has what you need for commercial roofing Wallace NC. Contact us today to learn more about the many options we provide
As a certified applicator of most major brands of roofing products, including TPO roofs, All Seasons Roofing offers a wide variety of commercial roofing products to suit your commercial property. All Seasons Roofing, Inc. has been specializing in commercial roofing, including repairs, roof maintenance as well as new construction roof installations for over 30 years. We also are a fully equipped sheet metal shop and can fabricate any metal needed for your project quickly and efficiently. As a licensed and bonded commercial roofing contractor in North Carolina, we have offices in Wilmington, Wallace and Jacksonville to service all surrounding areas.
Commercial Roofing Services For All Types of Properties
No commercial roofing job is too big or small for All Seasons Roofing. From churches, schools and strip malls to office buildings, apartments and industrial complexes, we do it all. Our reliable team is available 24/7, 365 days a year; so in the event of an emergency roof repair will respond and fix the problem before additional damages occur. We also understand that business must resume as usual, even if roof repairs and installations are taking place. Our trained and experienced team of roofers are professional and respectful of every job site so our efforts won't interfere with yours.
Commercial Roof Systems We Provide;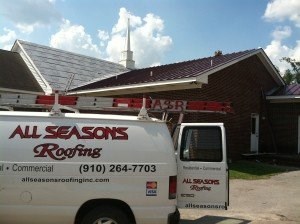 We offer all types of repair and maintenance packages to better service business owners and property managers. Ultimately, it is our dedication to providing superior customer service that has built our company's reputation over 3 generations. If you would like to schedule a Free inspection and quote please contact All Seasons Roofing at 910-799-2197.
Thank you for supporting All Seasons Roofing, Inc.